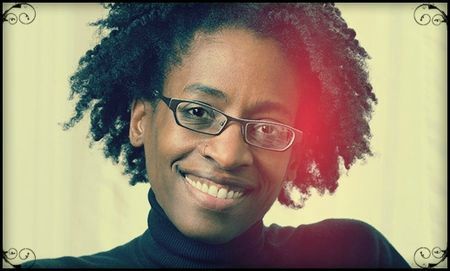 Jacqueline Woodson was born February 12, 1963 in Columbus, Ohio, she's an author who writes books targeted at children and adolescents. She has two childrens: Toshi and Jackson Leroi, the subjects of books is African American litterature.
Education
As is the case for many teens, her high school years were confusing. Her sexuality was not conforming to the ideas of many of her classmates and she found herself questioning everything. Her political views were crushed when Nixon resigned and Ford was sworn in. The young writer felt that George McGovern should have been the new president, since he had lost the election to Nixon. When teachers could not give her acceptable answers to her questions she became a loner, sullen and looking for an outlet for her frustrations. She spent a lot of her time writing poems and songs that expressed her social and political disenchantment. Her college education includes receiving a B.A. in English from Adelphi University in 1985 and studying creative writing at New School for Social Research (now New School University).
Personal Life
Woodson and her partner have known each other since they were young girls. In 2006 Woodson gave birth to a daughter, Toshi Georgianna. The child is named after her godmother, Toshi Seeger, and Woodson's grandmother, Georgianna. She also has a son named Jackson-Leroi.
In addition to her writing, Woodson has also worked as a writing professor at Goddard College, Eugene Lang College, Vermont College, as well as a Writer-in-residence for the National Book Foundation. She has also held positions as an editorial assistant and a drama therapist for runaway children in New York, NY. She lives in Brooklyn, New York, in a racially diverse neighborhood.
Censorship
Some of the topics covered in Woodson's books raise flags for many censors. Homosexuality, child abuse, harsh language and other content have led to issues with censorship. In an interview on NPR Woodson said that she uses very few curse words in her books and that the issues adults have with her subject matter say more about what they are uncomfortable with than it does what their students should be thinking about. She suggests that people look at the various outside influences teens have access today, then compare that to the subject matter in her books.
Each Kindness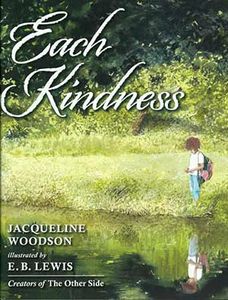 A new girl comes to school and tries to make friends. When Chloe, the narrator, is unkind, the girl keeps trying. And then the girl is gone and Chloe is left only with the memory of her unkindness.
WHY SHE WROTE IT:
"At some point in our lives, we are all unkind. At some point, we are all treated unkindly. I wanted to understand this more. I think too often we believe we'll have a second chance at kindness and sometimes we don't. I do believe, as Chloe's teacher, Ms. Albert, says, that everything we do goes out, like a ripple into the world. I wrote this because I believe in kindness."
AWARDS:
Best Book of 2012 – School Library Journal
Pecan Pie Baby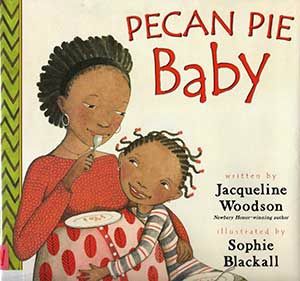 Gia is tired of hearing about the new baby. It hasn't even been born yet, but everyone, even her friends, seem fixated on it. Gia thinks things are fine just the way they are! And she's worried: if the baby's such a big deal now, what's going to happen to Gia's nice, cozy life with Mama once it's born?
Jacqueline Woodson and Sophie Blackall have created a heartwarming story for kids adjusting to the idea of a new family member. Young readers will be reassured by Gia's eventual understanding that the baby won't ruin the special bond she has with her mom, and might even be a sweet addition to the family.
WHY SHE WROTE IT:
"Jackson Leroi our son was on the way and Toshi our daughter had decided, once she knew it was a boy, that she didn't want a baby in the house after all. By then, of course, it was way, way, way too late. She's since come to like him but she does complain about him breaking her toys! And yes, both of them love pecan pie. But I actually don't like it very much."
Coming On Home Soon
It is wartime, and women have to go to work while the men are off fighting. Ada Ruth's mama has a job in Chicago and she must leave Ada Ruth and Grandma behind for a while.
WHY SHE WROTE IT:
"I had been reading stories about Rosie the Riveter and couldn't find any with African American women in them so I started researching. With the small amount of information I gathered, I began to write this book."
AWARDS
Caldecott Honor
ALA Notable 2005
Booklist Editor's Choice
Child Magazine Best of 2004
We Had a Picnic This Sunday Past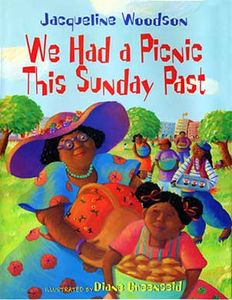 Teeka and her grandmother go to the family picnic and boy! aren't the others who come something to talk about!!
WHY SHE WROTE IT:
"To let myself remember how delicious picnics can be. (And to keep my promise of putting my niece, Teeka, in a book.)"
The Other Side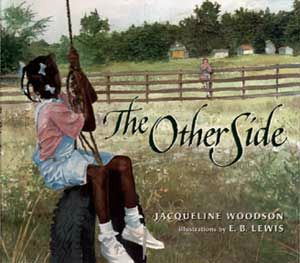 Two girls, Clover and Annie, become friends in a small, segregated town.
WHY I WROTE IT:
"I wanted to write about how powerful kids can be. Clover and Annie fight against segregation by becoming friends. They don't believe in the ideas adults have about things so they do what they can to change the world. We all have this power."
AWARDS
ALA Notable
Riverbank Review Children's Book of Distinction
Texas Blue Bonnet List
School Library Journal Best Book
Booklist Editor's Choice
New York Public Library's 100 Titles for Reading and Sharing
2001 Time of Wonder Award
IRA Teacher's Choices 2002 (featured on covers of The Bulletin of the Center for Children's Books, Booklist and The Baltimore Sun)
2004 Louisiana Young Reader's Choice Award (Honor)
2003-2004 Pennsylvania Young Reader's Choice Master List California Young Reader Medal Nominee
2003-2004 South Carolina Book Award Nominee
samedi 23 février 2013
Sweet Sweet Memory
Sarah's grandfather was a gardener. When he dies, he lives behind his beliefs about the world and a harvest to help her remember him and know that the circle of life goes on and on.
WHY SHE WROTE IT:
"I wrote this book in memory of my grandfather, Ganaar, who was a gardener. Whenever I see beautiful gardens filled with vegetables or flowers, I think of him."
Our Gracie Aunt
Johnson and his sister Beebee have to take care of themselves after their mother leaves. Then they're moved to the Aunt Gracie's house and things start getting better.
WHY SHE WROTE IT:
"There are so many kids in foster care or living with relatives who are not their moms or dads. There are all kinds of families in the world and I wanted to write a book about this. What makes a family isn't about who you live with but how much they love you."
Visiting Day
A young girl looks forward to the day she gets to go visit her father. It only happens once a month and it's a very special day.
WHY SHE WROTE IT:
"Because once a month when I was a little girl, I would go upstate and visit my favorite uncle. I remember those days well and wanted to write about them. This book isn't completely autobiographical but there is a lot of me in it."
AWARDS
2003 Skipping Stones Honor Award
Show Way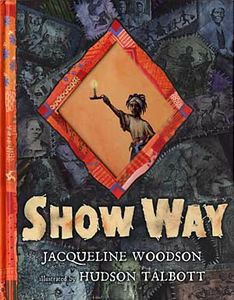 This is the first time I've written a book based on some of my own family history. 'Show Ways", or quilts, once served as secret maps for freedom-seeking slaves. This is the story of seven generations of girls and women who were quilters and artists and freedom fighters.
WHY SHE WROTE IT:
"After my grandmother died and my daughter was born, I wanted to figure out a way to hold on to all the amazing history in our family. I wanted a Show Way for my own daughter."
AWARDS
mardi 26 février 2013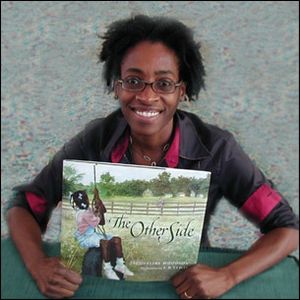 Video Jacqueline Woodson speaks of the neighborhood where she grew up : Here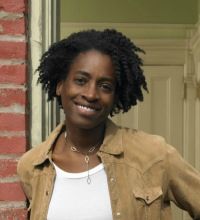 Official website : Here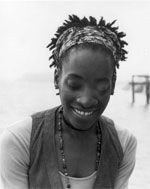 jeudi 28 février 2013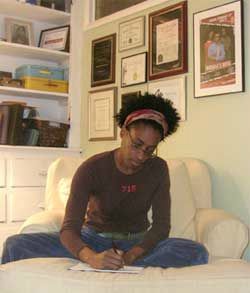 "My Crazy Beautiful World" is a short story by Jacqueline Woodson that addresses topics like freedom, independence, education, etc..
In addition, she inspired by her own story to write and I find its good because we learn a little more about his childhood and the feelings she may have
at that time. In fact, it makes us discover the story of Angela, a young 12 year old girl, who wants to be free, and to make friends. In this story
Jacqueline Woodson shows us her feelings, she tells us about his family ties to it with her grandmother and her mother and the absence of his father.
I liked this story because on one hand it is a true story and the other allows us to learn more about Jacqueline Woodson.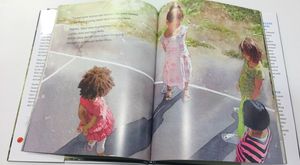 Link to history ; here
mercredi 13 mars 2013
Study of a famous painting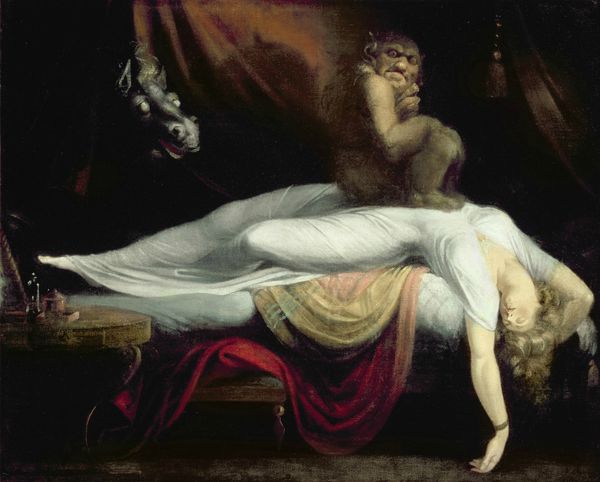 John Henry Fuseli / Johann Heinrich Füssli who painting The Nightmare in 1781 is a Anglo-Swiss. The first exhibition was in 1782 at the Royal Academy of London, it's an oil painting, it's a dimensions : 101,6cm x 127cm. She exposed at Detroit Institute of Arts.
The Nightmare : The canvas seems to portray simultaneously a dreaming woman and the content of her nightmare. The incubus and the horse's head refer to contemporary belief and folklore about nightmares, but have been ascribed more specific meanings by some theorists.[1] Contemporary critics were taken aback by the overt sexuality of the painting, which has since been interpreted by some scholars as anticipating Freudian ideas about the unconscious.
mercredi 22 mai 2013